Mitsubishi a affirmé lundi qu'elle a pour objectif de diminuer le prix de la H-2A de 90 $ millions Actuelle à 60/70$ millions. :)
Japan's Mitsubishi Heavy aims to cut rocket launch costs: company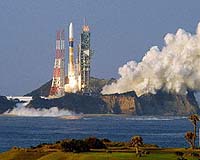 File image of Japan's H2A being launched.
by Staff Writers
Tokyo (AFP) Jan 7, 2008
Japan's Mitsubishi Heavy Industries said Monday that it aimed to slash the launch cost of its H-2A rocket as it competes with European and US rivals to put satellites into space.
The Japanese industrial giant hopes to reduce the amount it charges for a rocket launch from about 90 million dollars at present to around 60-70 million dollars to bring it in line with overseas rivals, a company spokesman said.
"We are making efforts to bring the costs down," he said.
Earlier the Nikkei business daily reported that Mitsubishi Heavy planned to cut the launch costs by 30 percent to about 64 million dollars by about 2009.
The move would put the H-2A launch cost on a par with rival satellite launchers such as the European consortium Arianespace and Boeing-led Sea Launch, it said, without naming its sources.
The Mitsubishi Heavy spokesman said the company did not have a timeframe for the cost reduction or a definite target.
The company also aims to reduce the amount of time it needs to fire a rocket into space after receiving an order by about one third to one year, compared with between six and 18 months for rivals, the official said.
Mitsubishi Heavy was chosen by the Japanese government in 2002 to operate large-scale launch vehicles following the privatisation of the project, which the company took full control of last year.
It is now seeking orders from governments and private companies around the world, but with only limited success so far.
The group has launched just two satellites so far in the current fiscal year to March, both for the Japanese government, with plans for one more next year.
Mitsubishi Heavy has a "back-up" launch alliance with Arianespace and Boeing Launch, which provide their customers with alternative services by a different alliance member when one partner cannot execute a planned launch.
It enhanced the ties with Arianespace last year with an accord to jointly offer satellite launch services using either the H-2A or the Ariane 5.
Community
http://www.space-travel.com/reports/Japans_Mitsubishi_Heavy_aims_to_cut_rocket_launch_costs_company_999.html