Pushing CAM To The Outer Limits
Although the mission to Mars has been in the planning stages for years, a California shop had less than three weeks to go from a CAD model to a final CNC milling program for an extreme tolerance Mars Rover part, while learning a new solid surface CAM program.
The Jet Propulsion Laboratory (JPL), managed by the California Institute of Technology, is NASA's lead center for robotic exploration of the solar system. Its spacecraft have visited all the planets in our solar system except Pluto. JPL telescopes are observing distant galaxies in the universe to study how our solar system was formed; it also manages the worldwide Deep Space Network, which communicates with spacecraft and conducts scientific investigations from its complexes located in strategic locations around the world.
JPL is also charged with sourcing the parts and assembly of the Mars Exploration Rovers now being built for the 2003 launch.
JPL itself handles the manufacture of about 20 % of the parts in-house, while 80% of the remaining parts are jobbed out to shops like Next Intent (San Luis Obispo, CA). Next Intent is machining several parts for the Mars Exploration Rovers, including the Rover's wheels.
Rodney Babcock started Next Intent because he saw that there was room for more machine shops that provided high precision machining and other value-add functions like manufacturing engineering and sub-assembly. Babcock recalls, "In my previous position working for a semiconductor equipment manufacturer, the best suppliers I had were the ones that gave me a lot of feedback about drawings and specifications, before they even started on the project." It was clear to Babcock that the shops who took time up-front to work with him on a design's manufacturability ultimately saved his own company time and money.
Next Intent handles many high precision machining jobs and specializes in machining titanium, aluminum, plastic, and stainless steel. I does most of its work for the aerospace, space technologies, semi-conductor original equipment manufacturing, cellular communications equipment, military, and commercial aircraft component industries. Next Intent prides itself on working closely with its customers' manufacturing engineers to determine manufacturability, machineability, and providing feedback on the best way to approach manufacturing challenges. Not surprisingly, on the Mars Exploration Rover project, Next Intent has forged a tight working relationship with JPL. "We consider our company an extension of our JPL's manufacturing engineering department," says Babcock.
Major Challenges
But there have been considerable challenges.
On the heels of winning the contract to manufacture the Mars Rover's wheels, Next Intent was propelled from machining with Gibbs and Associates' GibbsCAM Advanced Mill module into GibbsCAM SolidsSurfacer, a full-blown 3-axis multi-surface package, in one fell swoop. It had only two and a half weeks—from the time they got the CAD model of the Rover wheel to the time a CNC program was to be ready—to produce the wheels for the Mars Rover, with an application that they had never used before.
"So basically we had to learn the SolidSurfacer software while at the same time programming—for the very first time—a very difficult part," reports Chris Baker, manufacturing manager, Next Intent.
One of the company's primary reasons for choosing GibbsCAM five years ago for their CAM software solution was that the learning curve was short, which, at this point, was becoming absolutely critical. When the company went shopping for CAM packages, Next Intent talked with many machine shops that used packages other than GibbsCAM.
"We liked GibbsCAM's user interface and the software's ease of use. Not only that, but it also had the power to do the high precision machining that my company was going to specialize in. Also, Gibbs and Associates seemed to really keep up with the latest developments in technology, such as machining solid models," Babcock explains. Baker adds: "GibbsCAM is flexible enough to let us go at things the way we want to. Kind of like the way old tool and die makers approached programming, in a way that you might not expect."
The Rover Wheel Challenge
The rover wheel's wall thickness had to be tightly controlled on every surface of the part. Tolerances were constantly being pushed to keep the material as thin as possible, without affecting the structural integrity designed into the wheel. And maintaining the structural integrity was the top priority. "It is pretty incredible when you think that a 54-lb. piece of material ends up weighing 2.25 lb.," adds Babcock.
The spacecraft, landers, and rovers are compactly layered inside of one another like Russian dolls, because of the very strict constraints on size and weight. The geometric complexity of some of the parts reflects the creative design that packs a lot of engineering and scientific capability into a relatively small spacecraft system.
Just the rover and lander systems require over thirty gears and motors. Some of these help open and unfold the landers to release the rovers, some deploy scientific and communications instruments, and some are part of the rover's mobility and steering system.
Because of the tight engineering requirements for the Mars Exploration Rover's wheels, and the fact that they would have to push their CAM system beyond anything they'd previously attempted, Next Intent would need a lot of support to get the job done on time and to get it done right.
Gibbs' Reseller worked tirelessly to help Next Intent leverage the experience of other long-time GibbsCAM users, who have become experts at pushing the envelope of the software's capability by providing tips on creating ways to do things in GibbsCAM software that is not widely known.
"Our reseller was actually able to solve problems and help us do parts that are a real part of our everyday work. He also admits when he doesn't know how to do something and then works very hard to find answers," says Baker. "Collaborating with our Gibbs Reseller and other veteran GibbsCAM users really helped us to go to another level with the software. "We do things all the time with GibbsCAM that we are not supposed to be able to do," Babcock laughs.
Next Intent has also learned that with more complicated parts they have an added advantage to often pull the setup guy off the floor and make sure that they are familiar with how things will take place before beginning the actual machining process.
GibbsCAM's Cut Part Rendering feature allows the machinist to watch what the tool will do. The machinist can then make decisions based on the machining simulation provided by the software. "This can sometimes be difference between having a machine tool operator understand a job or not having a clue. Approaching the machining this way allows us to save a lot of setup time. A picture is worth a thousand words; Cut Part Rendering ensures a level of understanding between the programmer and the setup person or machine operator," says Baker.
Successful Deliveries
Next Intent has successfully delivered on several parts for the Mars Exploration Rover, including camera mounts, hubs, and several suspension arms, which are U-shaped channels with complex angles, and undercut walls. The suspension arms were machined from solid titanium, with wall thicknesses as small as 1mm (0.040"). Ultimately, they had to be match fit together so that they could be electron beam welded. "We did all the programming for these parts in GibbsCAM, and we really pushed the limits of the software and the software performed. Our customer is thrilled with the results, as are we," Babcock explains. However, even Gibbs and Associates was initially apprehensive when Next Intent approached them about programming the Mars Exploration Rover's wheels.
"The bottom line is that GibbsCAM will do more than what they will openly make claims of being able to do," says Baker.
Next Intent typically specializes in short run, prototype jobs, as well as small to medium sized production machining runs. They keep seven CNC machines running for two shifts with just one seat of GibbsCAM and two programmers. Since Next Intent does a lot of prototypes and R&D work, they often need to program quickly and produce consistently reliable toolpaths. Baker explains: "We no sooner get done programming something or maybe even machining it and we will get a phone call or fax from an engineer telling us that we need to make a change. Often before we ship a final product, we can have multiple revision changes."
GibbsCAM's toolpath associativity is critical for this work, since it allows Next Intent to readily incorporate changes—on any part—so they don't have to reprogram the whole thing. "We had a part number where we were making four revisions of the same part at the same time because our customer was testing four different methodologies. GibbsCAM's toolpath associativity was critical to efficiently and successfully completing this work," explains Babcock.
On Mars In 2003
In 2003, two powerful new Mars rovers will be on their way to the red planet. Each rover will carry a sophisticated set of instruments that will allow it to search for evidence of liquid water that may have been present in the planet's past. The rovers will be identical to each other, but will land at different regions of Mars.
However, back here on Earth, manufacturing lead times will continue to become shorter and shorter. And most companies will continue to buy at the last minute and expect immediate turnaround, which requires machine shops like Next Intent to be very responsive. "The old adage is: quality, cost, delivery—pick any two," says Babcock. "Now customers want all three, all the time, with shorter lead times than we have ever seen. "GibbsCAM allows us to control our total cycle time because we can program so quickly."
And that means remaining competitive even when expectations are out of this world. Gibbs and Associates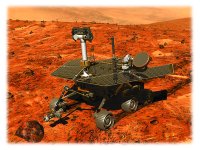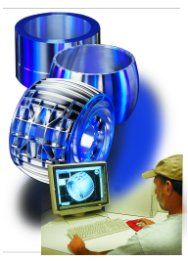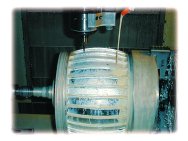 Tezio